Ancient and historical sites
Spring of Saint Lawrence
The Spring of Saint Lawrence is considered to be one of the most important sacred wells in the ancient Tavastia proper and was in use till the beginning of 18th Century. Before Christianity arrived it was known as Spring of Taara, an ancient God that protected the cemeteries. The spring was used for worshiping and practicing ancient magic rites especially on the market day of August 10. These markets were forbidden by the Cathedral Chapters in the beginning of the 18th century.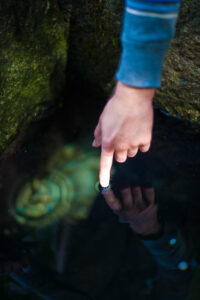 As Christianity reached Tavastia Proper during medieval times, the spring was re-named after Saint Lawrence, the Patron Saint of Janakkala. Saint Lawrence is well-known Saint who died as a martyr 258 A.D. in Rome. According to a legend archdeacon Laurentius was burned to death on gridiron in Rome during the persecutions of the Christians, because he had, on the bishop´s command, sold the church treasures and given the money to the poor.
The fame of St. Lawrence, or Lauri in finnish, spread with Christianity so that also in Finland many churches were dedicated to him. People turned to Lauri for help when suffering from burns, fever, lumbargo or when tormented by the purgatory as well as in case of fire. Lauri was also the saint of the poor, the librarians, firemen, cooks, bakers, schoolchildren and innkeepers.
The spring was built to resemble a well at the same time that the trenches were made at the beginning of 20th Century. The spring is 80cm x 80cm in size and it is 116cm deep. Fresh, clear water still springs from it today.