Vapaaehtoispalvelun työntekijöiden kokemuksia
Hei!
My name is Līga and I am 23 years old. I live in Latvia, Riga with my parents and our dog. This year I was supposed to finish university but I had some difficulties and I had to leave. I studied Finno-Ugric studies to become a Finnish language translator so I know Finnish language a little bit, but I haven't used it for a while.
This is my third day in Janakkala. I really like your town's symbol because lynx is is my favourite animal. Unfortunately, I have only seen a little part of municipality through taxi window, because it is covid-19 time and we can't go to public places. Nevertheless, that's also good because me and my volunteering friend Annaïg spend more time together at home. I help her with cooking and yesterday we went in sauna, it was relaxing and nice.
I am excited and can't wait to go out, to meet people and gain new experiences.
Līga
Janakkala 31.8.2020
Hei!
Minun nimeni on Līga ja minä olen 23 vuotias. Minä asun Latviassa, Riiassa minun perheni ja koiran kanssa. Tänä vuonna minun piti valmistua yliopistosta muttä minulla oli vaikeuksia ja minä lähdin. Minä opiskelin Suomalais-Ugrilaisia opintoja ja haluaisin olla suomenkielen kääntäjä. Sen vuoksi minä vähän osan suomen kieli.
Tänään on minun kolmas päivä Janakalassa. Minä rakastan teidän kaupunkin vaakunaa, koska ilves on minun lempi eläinen. Valitettavasti minä näin vain vähän teidän kaupunkia koska nyt on covid-19 ja me emme voi mennä ulos. Kuitenkin on mukava vietää aikaa Annaïg kanssa. Minä autan häntä keittiössä ja eilispäivänä me menimme saunaan, se oli miellyttävä.
Olen innostunut ja en voi odottaa että päseen ulos, tavata ihmisiä ja saada uusia kokemuksia.
Līga
Janakkala 31.8.2020
______________________________________________________________________________________________________________________________
Greetings to everyone!
My name is Annaïg. It is fine if you struggle to pronounce it. Even in France, people find it difficult because it is an unusual name: it comes from the region of Brittany, in the west of France, where my father is from. Most call me Annie, which is pronounced like the Finnish name Anni.
I am 22 years-old and I live with my family and my dog in a small town which is an hour away from Paris, the French capital. It is very close to Disneyland theme park. I have lived there until I graduated from high school and then I went to study social sciences in a university in Scotland. During my studies, I was able to go and study one year in Finland in Turku, at Turun Yliopisto. It was a really nice experience and it made me want to discover some more of Finland, which is probably why I am here again!
I would like to improve my Finnish during this stay, so I will thank you in advance for your patience while I butcher this oh-so-beautiful but oh-so-complex language.
I hope to meet you soon in person and I look forward to our cooperation during this year.
Terveisiä kaikille!
Minä olen Annaïg. Jos se on vaikkea lausua, voitte sanoa Anni. Useimmat ihmiset kutsuvat minua Anniksi, koska Annaïg on harvinainen nimi. Se ei ole ranskalainen nimi, vaan bretonilainen.
Olen 22 ja asun minun perheen ja koiran kanssa pienessä kaupungissä, Pariisin lähellä ja myös Disneylandin teemapuiston lähellä. Lukiosta valmistumiseni jälkeen, minä menin opiskelemaan sosiaalitieteitä Skotlannissa. Opintojeni aikana, minä menin vaihtoon Turun Yliopistoon yhdeksi vuodeksi. Se oli hieno kokemus ja luulen, että siksi olen Suomessa uudellen tänään!
Minun täytyy harjoitella Suomea paljon. Siten, kiitos kärsivällisyydestänne!
Annaïg
Janakkala 31.8.2020
______________________________________________________________________________________________________________________________
Moi, moi! Hello! Hola!
Here I´m again, after five months…even more! Wow, the time passes so fast! Now, it´s almost springtime, every day there is lighter and more sunshine which is so nice after various month of darkness. Well, I would like to tell you something about different point of this adventure.
About the past… my personal progress throughout this experience. It´s really grateful can see the progress in different point of my live. I mean, for example, the skills communication improvement, certainty with the foreign language and comfort in this new life. I really can appreciate the development in several aspect of daily live and for that I feel more resilient and stronger.
Also, I feel more comfort and conviction in my work than in the beginning. I´ve understood the importance of this cultural exchange, how is magic to share experiences, teach something of my culture or give the best part of me and, of course, receive good things of the people, moments or experiences. I´ve understood that this situation is enriching for both parts, for everyone.
About the present… Right now, I´m really enjoying this experience, thanks to the people I´m meeting; thanks to my wonderful roommate and adventure partner. The other volunteers who work in Finland, with whom I can share feelings and experiences, basically, they are in a very similar situation to mine. And the local people who show me the Finnish lifestyle (Sauna, avanto, pullas…), culture and nature that surround me.
About the future… I´m so excited to discover the spring and summer in Finland. Also, I have good expectations about my work in summer camps, we are already organising a bit and the plan sound really interesting for me. Will see what happen, but I´m pretty sure that everything will be great and rewarding.
That´s all for now!
Nubia
Janakkala 18.3.2020
______________________________________________________________________________________________________________________________
Moi,
I'm Lika. I'm from Odessa, Ukraine. It's a nice city at seaside of our country. So, here in Finland it will be the first time to live so far from the sea. Today it is exactly 1 month I've arrived here. I'm happy to learn life here. I love our hovs. It's so comfortable and cute. I think that be here during one year it's a good opportunity to know yourself better, to explore the different culture and language. And I'll be happy to provide and use all my lifeskills here and also will be very happy to get new. So, let's see.
Lika
Janakkala 11.11.2019
______________________________________________________________________________________________________________________________
Moi, 
I'm Nubia, I'm from Canary Island (Spain). It's only been two days since I arrived in Finland with the Volunteering programe. I live in a beautiful house in the municipality of Janakkala. I'm learning everything necessary to make this experience as enriching as possible. Everything is new and different for me, but I believe this experience is good, is necessay to get out of the confort zone. I think this year will help me to be more strong and resilient in the future. This is a realy good opportunity to know other culture, other people and to improve my comunicative skills. That's all for now. 
Nubia                                                                                                                                                                                                                                             
Janakkala 6.9.2019
_______________________________________________________________________________________________________________________________
MY VOLUNTEERING ADVENTURE IN FINLAND
11 day to Christmas and unfortunately I 'll be not in Finland. Because I have a vacation two weeks and I'll try to have a trip around European countries. I actually would like to be in Finland on New Year. Because, as I see Christmas is a big thing in Finland and its like my first real Christmas. In my country, its not a big thing as in Finland. I think, That's the point about EVS. I ve been living in Finland like 3 months and I came across with lots of cultural situations and  matters and other stuff. And its really interesting for me , because I got used to live in this country quickly. I always had good and so venerable thoughts about Finland and its culture. I was thinking maybe at least a little bit there could be some change about some points that ı had some ideas for Finland. But, Finland is an exactly  country what I thought before. Its a good thing about my imagination and analyzing of a country I love so much. Because, I feel like here is a country I can actually live forever. And also its a realy good thing to know something about country where will you go for EVS. Then, the risk about the culture and other stuff of country that maybe you really dont like would be in a minimum level. So, you cant have a problem like for a year  living in a country  you dont like.
I have fantastic moments in Finland. The seasons I ve been  experienced in Finland was just beatiful. The seasons were autumn and now winter and I am sure spring and summer are also will be so fantastic. I am interested in this country in a poetic way. I think its because of Finland's beatiful nature. I can have a trip into Forest so easily and can arrive there so quick. Because its just a few meter later. And there are lots of paths for  the people would like to walk, run or bike into Forest. Youre always surrounded by the nature. And, you feel peaceful. This might had been effective on people. Because, people in Finland always so kind and calm. Yes they are also shy but its not a problem. Its just because of their kindness. Until this time I ve never seen seriously angry and wild people in Finland.
Everything is an  new experience here. Maybe you had experienced something in your place. But if you are in a different country , the things still that you've been had  look  like  first trying. Thats also attractive reason about EVS. I  was always in a dormitory with lots of people. Now I have roommate. Same situation but different. Now youre in a different country and youre together with a foreign people and you both have different cultures. So, sometimes you have  to arrange something according to your wishesand cultural requests. Even some problems you can have but its actually a life experince and just gives you a chance to learn more thing about communication.
My work what I do here in Janakkala Municipality is enjoyable for me. I have lots of friends and they are so interested in me, they always would like to have some conversation with me. Youngster are a little bit diffucult in the first time. But after a while they are so friendly. I am happy to know this country and get across with lots of diifferent people. Its an adventure for  my soul. And to know at the end of this adventure Ill have lots of good memories and frienship is really exciting and fascinating.
The place where I live has a very great location that is close to the most famous and big cities like Helsinki, Tampere and Lahti. I think, you should try this voluntary job here in Finland if you look for  a peaceful life for a while.
Ebru
---
Blog Entry #2
Moi,
I am Ebru from Turkey/Istanbul and 23 years old. Now, I am currently  living in Finland. And, You should know this is a very great oppurtunity to get familiar with a new culture and people. I came Finland just one week ago with an Erasmus Vounteering Programme.And I would like you to know Finland is reaaly so beatiful country with all nature, green landscape and kind people. My voluntary working includes some tasks related to youngsters,disabled children and some office work at Municipality of Janakkala. Well, all process of vouluntary working is based on Municipality of Janakkala. I also have a friend, the other volunteer Rayk from Germany. We work together and still try to get know each other . It is also an experience to acquire and strenghten on getting along people well or having better communication. These days are recent so much. Well, I have some endearing excitement for days to come. I know , We will have lots of great days that would be wanted to live again and gives us all kind of experiences about life and responsibilities. I am here and will try my best. I am really so lucky beacuse of having some oppurtunities and chances that will give me lots of possibilities and facilities to know other cultures, people from different countries, to strengthen my communication skills with people of all age group and to think more detailed and planned well.
Ebru
---
Blog Entry #1
Well Hello there,
My Name is Rayk I am 18 years old and I am from Germany. Since I am almost 3 weeks here, i had the oppertunity to get a first impression of Finland. Before this volunteer service I had no idea about Finland. I know the the finish nature is known in the whole world. And that was all I knew. Now after 3 weeks I say a little bit more about this country. I like it. I really like it. And the thing about the nature is true.I like to do many outdoor activities, so the nature and I fit perfectly together. Living in a small village is also pretty unsual for me. I mean, Finland is almost as big as Germany. Germany has around 80 Million people and Finland has "only" 5.5. And my hometown has around 550.000 people. Also the mentality of the people here is way more relaxed than in Germany. I like that. The finish language is very different from german. Way to many y and k… But it is one of my goals to learn finish, so i will have to try that. I would like to say something about the food. but i dont know anything about. Maybe in another post. Maybe. Anyway so far this should be all.
Rayk
---
26.7.2018
Now it is almost over, 11 months of EVS in Janakkalan kunta!
So much joy and happines we have experienced here. The majority of time here was cold and rainy yet the warm-hearted finnish people helped us to go through. But we got rewarded with one of the best finnish summers.
First of all we would like to thank all the people, who were working with us, made our time here unique, for supporting us in challenging situations and being good friends in everydaylife. As well as that, we are thankful to the youngsters and children of Janakkala, who were welcoming, taught us so much about finnish culture and lifestyle, shared the secrets of finnish language and were a good company in the long, dark and cold winter evenings.
Our work here has been unquestionably exciting: We had the chance to explore different fields of youthwork, join children in their classrooms, talk to youngsters, play with toddlers in the kindergarten, participate in summer camps and so much more. Altough it was almost 11 months ago, it feels like we arrived yesterday at Helsinki airport and the whole project is still ahead.
In summary, with all up's and down's it has been a great experience that we would not change for the world.
Eugenija ja Christoph
---
29.11.2017
It has been already 3 months since I started calling Turenki my home.
It has also been as much as I felt here as at home too.
My other home is not so far away – only few hundred kilometers away, in small country called Lithuania. And I came to Finland to do my European Voluntary Service (EVS). Although Lithuania is very close, I already find so many differences between these two countries. But let me start from the beginning….
I have had this idea of doing EVS for a long time, long enough to figure out my motivation and if it is a really right thing to do for me (and since I am here, I am sure you know where this thinking led me to). But there is a thing about dreaming thou: I had a lot of time not only to think of reasons to do my EVS, but also to build an image of what my time here would be. And as all of this dreaming meets with reality, well, you understand even more that life is full of unexpected adventures, and the only way to go through it is to accept them and enjoy fully.
Before I came, I felt a need to get out of my comfort zone. I had a wish to get into a new culture, acknowledge its everyday life, communication and rituals, be lost and try to find my way. Even though all candy tasting like liquorice truly took me faaar away from my comfort zone and everything being in the middle of the forest makes me get lost almost every day still, all those shy, but kind and warm Finnish people are teaching me something new about their country every day and I am more than happy to be here and experience it. What is more, I have a great chance to introduce something about my country too or share ideas and knowledge that I brought from my past life.
Here in Finland I have been warmly welcomed by Janakkalan municipality. Every day I try to help somehow in the activities I join and contribute whenever I am needed. And one of the best moments that I have had here is when I actually succeeded, at least a little bit, even if it's just making someone smile for a minute on not-so-perfect day. And, thanks to a wide variety of activities we can do here (schools, youth centers, cinema workshop or just a short visits at some places in Janakkala), I have been provided with an opportunity to do it quite often.
Time is flying so fast and the cold and dark winter might bring new challenges, but for now I still have exciting shivers thinking of what tomorrow might bring.
Eugenija
---
14.11.2017
More than two months have passed by since my arrival here in Finland, and I can only agree that an EVS is a life-changing experience.
Of course I arrived with a little bit different expectations about the EVS-project. But I have to accept that it is impossible for only one person to change the whole world. So an EVS gives the chance to make the world little by little to a better place to live. However it is a very long road to have a community without any prejudices, racism and discriminations.
My project includes a lot of different activities like participating in youth center activities and operating in diverse departments of a vocational school for people with learning difficulties. This is the way I get into contact with the youngsters and increase the youngster's interests for other countries, cultures, traditions and people.
This project also provides me deep insights in a wide variety of jobs like car mechanics, building maintenance, gardening and IT. Furthermore I have the possibility to take part in the worldwide well-known finish education system and due to that get profound knowledge about it.
But now something about leisure time activities and living in Finland.
The finish nature is considered to be one of the most beautiful ones, and I can only agree with this point. With its dense forest, incredible high number of lakes it is worth a visit.
Living in Finland is not so different, than living in my home country, Austria. Of course there are no mountains around, which I could climb, but Finland offers a lot of other opportunities to spend leisure time outdoors.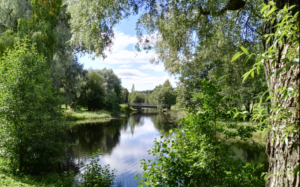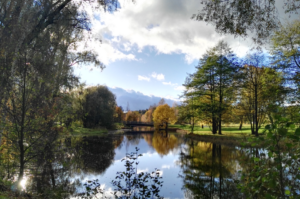 As a result that Finland is well-known for heavy metal and I also enjoy this kind of music I didn't miss the chance to visit the concert of one of my favorite bands ENSIFERUM in Helsinki. It was a pleasure to see them performing in their home country!
Another highlight during my EVS-project was the On-Arrival training, kept in Kokkola. This is a meeting of about 30 people, who are doing their EVS in Finland. So this means, they are widespread all over the country and have mostly the same goals for their stay in Finland. For me this time there was one of the best so far, because we met people from all-over Europe and had the chance to make connections for lifetime. Moreover it enabled me to get knowledge from other cultures, traditions and lifestyles. Furthermore I also met after this On-Arrival training with some of them, and moreover this is a very good chance to discover other places in Finland.
Right now I am looking forward to a winter with lots of snow! So, let's see what's going to happen the next months!
Christoph
---
25.7.2017
One year done here in Janakkala !
I cannot believe how fast it went. Autumn, white winter, spring, green winter… It's over. It's the end of my EVS. I wish I could do it two, three, four times again.
I am so grateful for this incredible opportunity Janakkalan kunta gave me. I'm the lucky one ! I couldn't have expected such a nice experience, such nice colleages and such a friendly city. Everything went perfectly well and I hope that all the leaders, teachers, children and teenagers I have been working with enjoyed my work here as much as I did.
The winter was so long but it was worth the wait ! I created such strong links and I just felt better and better throughout the months passing by.
I realize now how much I grew up and how beneficial this volunteering has been to me. I am flying back to France as an adult, my mind is full of incredible memories but my heart is full of sorrow to leave my coworkers, my friends and my family here in Finland, to end this amazing adventure.
Janakkala I will come back !
Margot Allain
---
25.7.2017
ONE YEAR OF ERASMUS EXPERIENCE
My year in Finland  will soon come to an end. It's time for summary and final goodbye.
I want to start with thanks to all of the amazing people I was lucky to meet here. It was a pleasure to work with you, to spend leisure time with you, to share opinions and good energy.
My thanks go to Sanna, Kitta, Satu and Mallu with whom I was working; to my mentor Jaana who was my personal sunshine during dark winter and calm shadow during sumertime when sun was always to busy to go to sleep; to my friend Milena who was there for me for the whole time. Thank you for spending time with me, inviting me to your houses and "sharing" your families with me. Also I would like to thank all teachers and youth leaders with whom I was working for their support and kindness. I really appreciate this.
I received a lot of positive energy while being here. I also gave a lot of positive energy. I really liked my job and my responsibilities. I felt that what I do is important and meaningful. I could not give more cause I gave everything what I had. And God payed me for that in happiness I can share now with people I meet on my way.
I felled in love with Finnish nature. In my life I have travelled a lot. I have been in almost every European country and in Australia but I have never seen such an enormous beauty anywhere. Probably because my personal ideal of beauty is defined by lakes and forests and nothing in the world would ever be more appelaing to me.
I appreaciate the Finnish lifestyle. You are hard working nation, very close to your families   and friends and even thouh the stereotype says that Finnish people are closed and introvert I do not entirely agree with that as once Finnish people open they are really rocking and rolling.
I could say much more but it's time for me to pack my backapck and explore some other part of the world. I hope that Finland will always stay as beaituful and it was for me for this whole year.
Antonina Kardas
---
12.4.2017
I cannot believe that it's been already eight months here. Time flies !
I feel like I landed in Finland and started this incredible journey yesterday.
The September-Margot and the April-Margot are currently having a complicated relationship. I am obviously still the same person. But I know  much more about myself and I understood who I had always been without especially being aware of it.
I know that I can change things and situations. It's a slow process and people around me do not realize it at first sight. But I know it and it makes me proud.
I, Margot, a short curly-haired french girl, am making the first move. To open minds, to open eyes and to spread my good willing.
With kids, teenagers, teachers or whoever I meet here I feel like I am doing my part of the job. I am not asking to stay in people's mind forever but I am pretty sure that someday one of them will remember me when they will fly abroad and start a new adventure. Because I might be part of this willing to leave home and discover an amazing new country.
A big part of the difference between the September-Margot and the April-Margot is that I don't feel like a foreigner anymore. I realized it a few weeks ago. My accomodation is not « the appartment » anymore, but I call it home. It's a big step to feel home abroad. I am not homesick anymore or wondering what the heck I am  doing in this crazily cold country.
It's totaly related to the fact that in January, a woman I met thanks to my EVS activity in a primary school became a sun in my life. 'Cause yes I am only 19 and I need a little mama here somehow. It changed everything. Her family became my family. I am now going beyond the EVS activity and I am creating unforgettable links.
Some need friends, parties, pets or many different things to feel truly comfortable. I needed them !
It may seem quite personal, or not so related to my EVS itself but I cannot talk about my experience here without talking about them.
Margot
---
4.4.2017
The eight month is already passing by since I started living in Finland. Undoubtedly this was hectic time full of new experiences and feelings.
My name is Antonina and I am EVS volunteer from Poland. I am working with Janakkala's youngsters – in Youth Centre and in various schools.
First of all let me tell you what I love about Finland: the most beautiful nature in the world, good-hearted and honest people (I met thousands of them here) and specific worldview only Finns have.
And now let's go back to EVS 🙂
I am very happy to take part in this project. I truly believe that there is nothing more important than knowledge and new experiences. Being here I not only have opportunity to gain experience and knowledge but also to share it. Most of the time it is information about my country and culture.
For sure I am not changing anyone's life by being here – I am just a drop in youngster's ocean of life. But ocean is created by drops. One drop in pair with another and I have a chance to take part in creating new, open-minded generation who is aware of the fact that people from all around the world, even when they speak differently or express their feelings differently or have different opinions are in fact the same and are equal.
So yeah. Sometimes before going to sleep I congratulate myself for fighting racism and wars J
Of course this was a joke, but in every joke there is seed of truth.
Let me put this that way:  I was thinking for a really long time how to find a solution for all of the Biggest World's Crisis like hunger, wars, sickness and aggression.
I am sure that sometimes every single one of you tries to figure it out somehow, don't you? Yeah. Surely sometimes you visualize yourself as a Batman or Wander-woman who fights all the crimes.  I know you do this because I am doing this every time when I stand in a queue and I usually don't differ from other people a lot. Just a random girl. There are thousands of girls like me around the world.
But I was also thinking, you know, differently, like seriously. Reading Dostoevsky, Orwell, Bible and Koran and trying to find an answer – what to do to change the world?
It took me some time.
And I have to tell you – after all this thinking…
I did not find any perfect answer and solution for any of this. Sorry. It's probably because I am not Buddha. Nor Jesus.
I am just a random girl. There are thousands of girls like me around the world.
But.
I managed to find not totally satisfying but still quite good solution.
Better something than nothing, don't you think?
And the solution is: if you want a world to change, to be a better place, where everybody is safe, happy and has access to food, water and education you have to start with a new generation. Because happy and open-minded children grow up to be happy and open-minded adults who would be able to make changes. Those changes those adults will do, won't be significant – there would be just small changes. But those adults would have their happy children and their happy children would have their happy children and after a few generations (if we won't be conquered by aliens by that time) we would have a chance to have only happy adults and happy children all around the world.
That's why I've decided to work with youngsters and that's why I am so happy that I can start doing this here – in Janakkala as
Finnish educational system is claimed to be the best in the world and after those eight months of being here I have to agree with that statement.
Finnish teachers and youth leaders truly care for their students. Not only for their minds but also for harmonic physical and psychological development. They ARE really doing this every day: they are preventing wars and racism and creating new hyper-generation and I am really glad that I can learn from them and be part of this process.
I think that's all.
No. Sorry.
There is still something left to be shared.
After all of those big, love-Finland, war-preventing, and antiracism stuff just let me tell you two more things:
Salmiakki is disgusting.
Partitiivi Pluralis is ridiculous.
Antonina
---
22nd of November 2016
I've been here for almost three months now. Three months really hectic, full of new activities, meetings and feelings.
My expectations about this project have been totally satisfied. The activities and jobs are really diversified. My main activity is to work in Satama, the Youth Center but I also worked in a primary school and in a vocational school for disabled people, Kiipula. I took part in three different youth camps. All these places and works did allow me to meet amazing staff members, teachers and youngsters who taught me a lot, by their way of being, thinking and acting.
France and Finland are two Western countries, well-developped and modern, so we coud think that they are mostly similar, but actually even if they have common points, they are amazingly different. Being here not as a student, but as a volunteer allowed me to realize precisely how was this country working and its inhabitants acting. I am not just looking at them, I am part of them. Being an EVS is a perfect way to be totally immersed.
Obviously, life is not always easy, some days are brighter than others. The family, friends and beloved are thousands of kilometers away, but what is it to miss them a few months whereas being here makes me a better person forever ?
Margot.