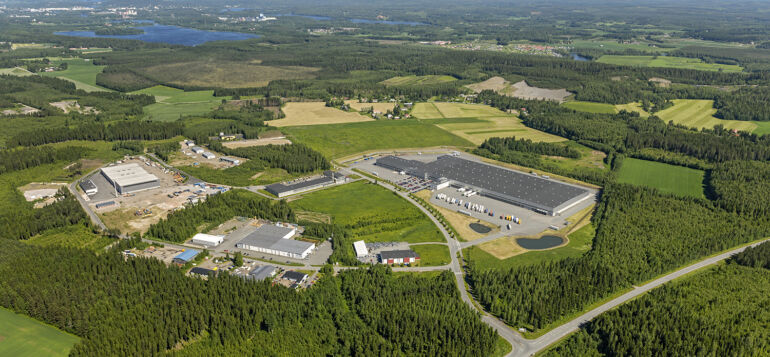 Business
In the midpoint of Growth Corridor Finland
It's great to be an entrepreneur in Janakkala
In Janakkala you live as if you were in the countryside but still close to well functioning services. There is no traffic congestion in Janakkala but the employment area covers still the whole capital region and a lot of other cities in Southern Finland. Land plots are bigger and considerably less expensive than in cities.
Berry and mushroom picking areas, swimming sites, jogging paths and ski tracks are close by. In addition to 150 associations, Vanajavesi Adult Education Centre and Sibelius Institute offer a great number of leisure activities from floorball to choral singing. There are lots of happenings in urban areas and villages, all year round. Janakkala provides excellent connections to the different parts of Southern Finland for both inhabitants and entrepreneurs – it's only an hour's drive to Helsinki and Tampere from there. To the nearest cities of Hämeenlinna and Riihimäki you can drive in just 15 minutes.
Janakkala has
excellent traffic connections
inexpensive prices per square meter for plots and commercial properties
a versatile provision of available commercial properties
a ready-made city plan that enables quick building
the kind of ground and terrain that enable inexpensive building
low employment costs
plenty of skilled and permanent work force
a customer-oriented service attitude in entrepreneurial services
expertise in all matters concerning relocation services
he will to take into account individual business solutions and needs
fast decision-making
firm timetables
In Janakkala you are in the middle of everything
For an enterprise, the location of Janakkala is excellent. Janakkala is located on Growth Corridor Finland, the core of national economic growth and competitiveness. This compact area holds 40% of the country's jobs and this is where already about a half of the country's companies' revenue is made.
Helsinki-Tampere motorway and the main railway line run through the municipality. Also transverse traffic to the directions of Turku and Lahti runs very well.
There are vacant business and commercial plots in the municipality's main urban areas Tervakoski and Turenki. Our newest enterprise zone is Rastikangas which is located so close to Helsinki-Tampere motorway that it only takes a minute to get there.
There are also plenty of different kinds of cooperation possibilities: there are ca. 800 enterprises operating in Janakkala. Moreover, the region has plenty of skilled and trained work force.
Rastikangas
Rastikangas in Turenki is a developing enterprise near on Helsinki-Tampere motorway, close to Turenki intersection. From Rastikangas, there are good transport connections to the central cities of Southern Finland. The area is well suited for production, logistical and storage operation.
The prices of industrial plots vary between 2,50€ and 10€ per square meter, depending on the location. The plot sizes can be tailored to meet the needs of the enterprises.
The prices of commercial and industrial plots in Tervakoski range from 4,80 € to 6 € per square meter. Plot sizes vary from a few thousand square meters to solutions that meet the business needs. The municipality and JTA together have over 10 hectares of vacant plots .
Premises for enterprises of all sizes
The municipality´s business premises company Janakkalan Teollisuusalueet Oy (JTA) is responsible for building and renting in Janakkala. JTA offers competitive and functional spatial designs of premises for enterprises of all sizes, for many different purposes. JTA rents ready-built production and storage facilities or, if agreed upon, builds completely new commercial properties for rent. It is also possible to make different types of contracts on business premises. The contract can be made either on an existing property or a commercial property that is to be built separately for an enterprise.
Contact information
Ismo Holstila
Vitality Manager
+358 3 680 1319
+358 50 591 5865
ismo.holstila@janakkala.fi
Master plans, commercial property zones and land aqcuisition
Markus Myhrberg
Janakkalan Teollisuusalueet Oy
Managing Director
+358 40 568 9505
markus.myhrberg@janakkala.fi
Enterprise zones, land plot and commercial property matters, JTA building management